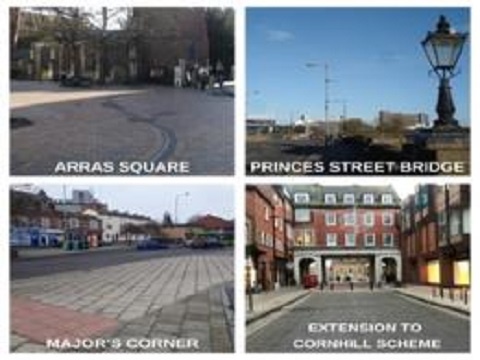 Ipswich Borough Council has identified a number of areas in and around the town centre that need improvement.
Supported by its Vision Group partners and following the completion of the new-look Cornhill project, the Council wants to enhance the town still further by rejuvenating some of the tired looking public spaces in the town.
The Council's planning team has been mapping the central area of Ipswich, looking at key sites for major improvements and producing a shortlist of four public spaces in need of a new look.
Now it is over to you! We want the public – those who live in, work in and visit the town – to vote on our shortlist of potential sites.
The Leader of the Council, David Ellesmere, said: "We have identified several public spaces in Ipswich that are looking tired and in need of investment. We cannot do everything but we have a £3 million fund to make further improvements to our town centre and surrounding area.
"During the Cornhill project, people told us they wanted to see other parts of the town centre given a new look and this is their opportunity to help shape the future of these public spaces.
"It is vital that Ipswich keeps improving to support existing businesses, attract new ones and to provide a town centre that residents can be proud of and that visitors want to come to."
The "Shape our Town" consultation will run for six weeks and the Council will be promoting it online, through social media and by contacting a wide range of organisations directly to get their ideas.
This is part of the Council's Ipswich Town Centre and Waterfront Public Realm Supplementary Planning Document (SPD) which provides guiding principles for public space improvements and design projects.
This is not a one or another project but we want you to say which you feel is more important.
You can take part in two ways:
In writing – survey forms can be found in many Ipswich Borough Council facilities, including the Town Hall, Customer Services Centre, Tourist Information Centre, Regent Theatre and Crown Pools.
You can also come along to your next Area Committee meeting to hear more about the scheme and consultation. You can find out when the meetings are to be held at www.ipswich.gov.uk/areacommittees.
Please get involved and play your part in shaping our town's future.
The six-week survey closes on 27th February 2019.