Win Cash With The Suffolk Sound
Need a helping hand with your bills? Perhaps you'd simply like to to treat yourself, guilt free? Here's your chance! If you can correctly guess our mystery #SuffolkSound, we'll be transferring the jackpot into your bank account.
You'll need to listen out on air throughout the day to hear the sound and competition entry lines open at 7:30am on Breakfast with Dom then at 5:30pm in the afternoon with Paul Morris.
The jackpot grows by £10 each day that nobody guesses the sound correctly. We'll leave all the wrong guesses below to make things a little easier for you!
Current Jackpot: £200

Incorrect Guesses

Electronic pepper grinder.
Shower curtain being pulled across.
Morris dancers.
Fish hitting batter at fish and chip shop in Aldeburgh.
A single maraca being shaken very slowly.
A pack of cards being flicked.
Somebody taking a sip of a hot drink.
Somebody crunching a carrot.
A turnstile at Portman Road.
A wellington boot splashing down into a muddy puddle at Landguard Fort in Felixstowe.
An automated air-freshener.
Aidan opening a bag of Brussels sprouts crisps live on air.
Cash being put into a till.
Somebody putting a coin in a vending machine.
Somebody letting go of a tape measure.
A person treading on wet gravel at Needham Lakes.
Somebody turning a pot of Pringles upside down.
Toast popping out of a toaster.
A Library date stamp.
The ticket machine on Ipswich Buses.
A cow being milked into a bucket.
An apple being sliced.
A shopping trolley being put back with all the other trolleys.
Flicking a pack of playing cards from the bottom to the top.
A model train on a track.
The pump on a soap dispenser.
Coin pushed into a tipping point style arcade machine.
Somebody taking a photo using a mobile phone.
A guillotine.
The sound of the shutter when taking a picture on a mobile phone - REPEAT.
As with all Ipswich 102 competitions our standard terms and conditions apply, find them here.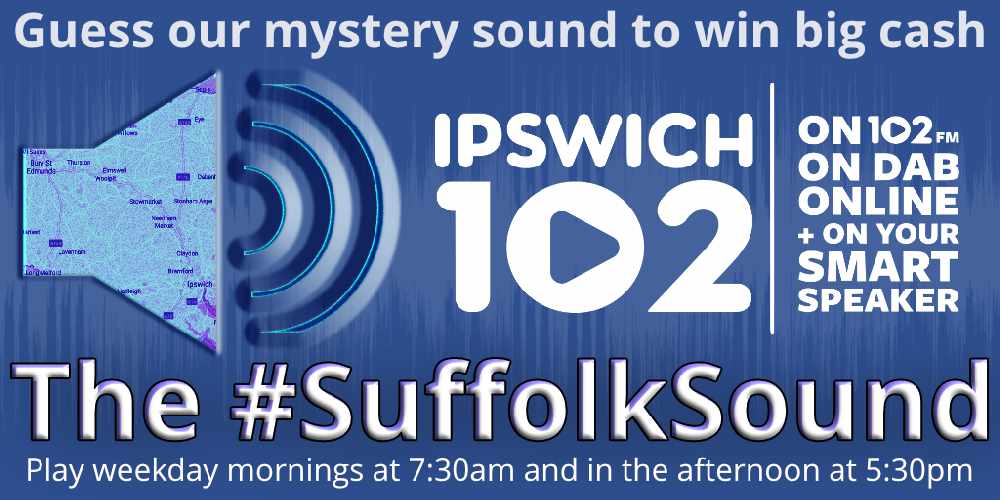 The Suffolk Sound on Ipswich 102, with The Hearing Care Centre: Free hearing assessments in Ipswich from 20-25th January.