Win Tickets to the Ipswich Transport and Model Festival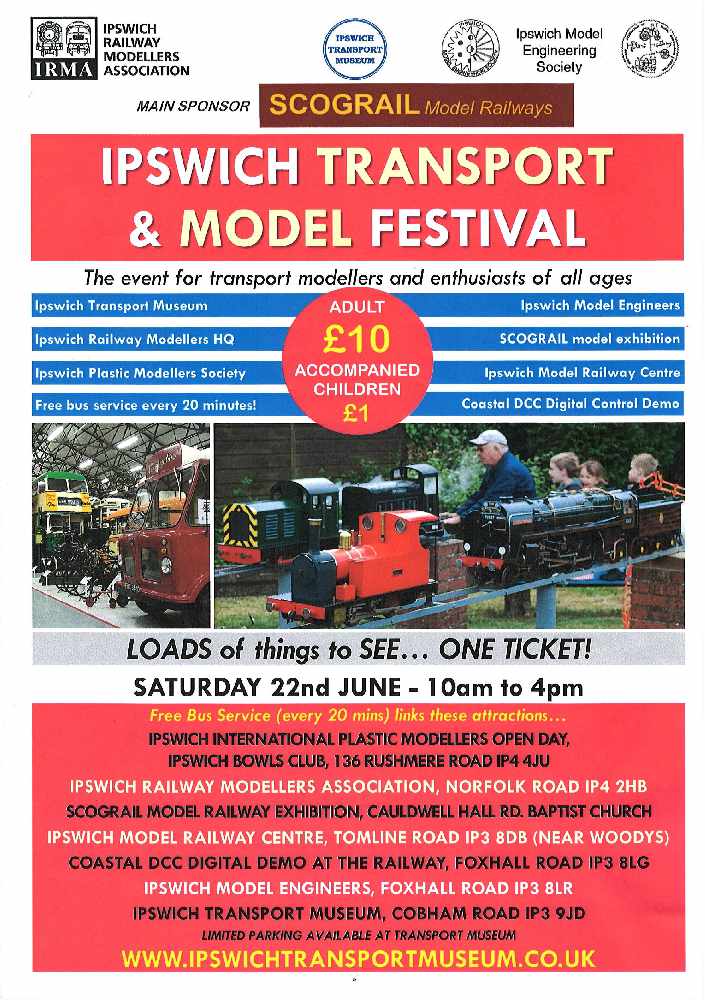 Our friends at the Ipswich Transport Museum, Ipswich Railway Modellers Association and Ipswich Model Engineering Society have teamed up to host the Ipswich Transport & Model Festival on Saturday June 22nd.
This event is for "kids of all ages" join three of Ipswich's local attractions and gives visitors the chance to enjoy full size classic historic vehicles alongside scale models of trains, lorries, boats and planes.
A free heritage bus service links the three organisations, so you can see the transport museum's fabulous full size collections as well as a selection of toys & models.
You can also see models of planes, boats and trains at Rushmere Bowls Club, smaller scale model trains at the Railway Modellers headquarters in Norfolk Road, railway layouts at the Scograil Model exhibition at St. Johns Church in Cauldwell Hall Road, and Orwell Model Railways digital model display at the Railway Pub on Foxhall Road.
Plus if you prefer larger scale models you can see and ride behind large scale live steam engines at the Ipswich Model Engineering Society's Foxhall Road site.
The event runs between 10am and 4.30pm, and we've got five PAIRS of adult tickets to be won.
Standard terms and conditions apply and entries to this competition close at 23:59 on Tuesday 18th June. The winners will receive their entry tickets by postal delivery.